FAQ Fossil Free Fuel
Why to donate money to buy aviation fossil free fuel?
It is an easy and quick way to avoid CO2 emissions in 80%. A sustainable and responsible way to travel and decrease your footprint.
Where is the fuel delivered to?
The fuel is delivered to the airport where the donation is done. At the moment: Arlanda.
Where is the Aviation Fossil Free Fuel coming from?
The FFF we purchase is produced in Finland and it arrives by boat to Gävle. It is then transported by train or truck to the fuel deposit of this airport.
What kind of organization is Climate First?
Climate First is a non-profit organization that works to fight climate change. 85% of the donation costs will be used to buy FFF. Read more about climate first at www.climatefirst.se
What is the greenhouse emission avoidance with aviation FFF?
80% less greenhouse gas emissions.
What is the cost per liter vs CO2 reductions?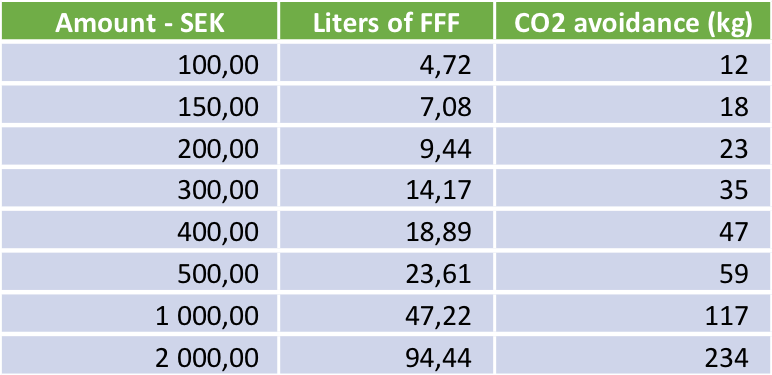 What is Fossil Free Fuel - FFF?
It is fuel produced from renewable, sustainable and non-petroleum based sources. In this case, we refer to aviation Fossil Free Fuel. It reduces greenhouse gas emissions in 80%.
Is fossil free fuel going to be used at my flight?
With your donation, we will buy FFF which will be delivered to the airport from time to time. Your donation will be used to purchase FFF to be used at future flights. Eventually your flight will have FFF but with donations from previous travelers or companies.
How much of my donation goes to buy Fossil Free Fuel - FFF?
85% of the donations is used to buy fossil free fuels. 15% is used to cover operational costs such as the terminal, payment fees, taxes, administration, rental, maintenance, etc.
How is FFF produced and from what raw materials?
Aviation Fossil Free Fuel can be produced using a wide range of raw materials such as waste animal tallow (fat), used cooking oil, cellulosic waste such as excess wood, forestry residues, vegetable oils such as palm, camelina, jatropha, carinata, corn and even municipal solid waste.
How does Climate First reports all FFF purchases and CO2 avoidances?
Once a month we will upload at our website the amount of donations, the amount FFF purchased and the CO2 avoidance. Please follow us online.
How can we ensure that FFF is safe to use?
Aviation FFF can be safely blended up to 50% with regular fossil jet fuel depending on processing technology and feedstock used. The technical properties of neat FFF and its blends are specified and approved by globally recognized specification body, ASTM, to be used in all commercial aircrafts. Quality control which includes production, blending, transportation and delivery of FFF is adhered to the strict fuel handling guidelines from Energy Institute JIG standards.
Find here CO2 emission examples:
Stockholm - Paris - Stockholm: 503 kg CO2e 
Stockholm - Rome - Stockholm: 655 kg CO2e
Stockholm - London - Stockholm: 471 kg CO2e 
Stockholm - Lisbon - Stockholm: 979 kg CO2e 
Stockholm - Malmö - Stockholm: 166 kg CO2e 
Stockholm – New York - Stockholm: 2.053 kg CO2e
Stockholm - Dubai - Stockholm: 1.560kg CO2e 
Stockholm - Nice - Stockholm: 624 kg CO2e
Stockholm - Barcelona - Stockholm: 751 kg CO2E 
Stockholm - Helsinki - Stockholm: 129 kg CO2e
Do I get a certificate or a diploma?
Yes! A confirmation/certificate will be send via e-mail.
Are the planes using 100% fossil free fuel?
The current mix is 36% FFF vs 64% Fossil Fuel. We basically buy and count on the 36%.